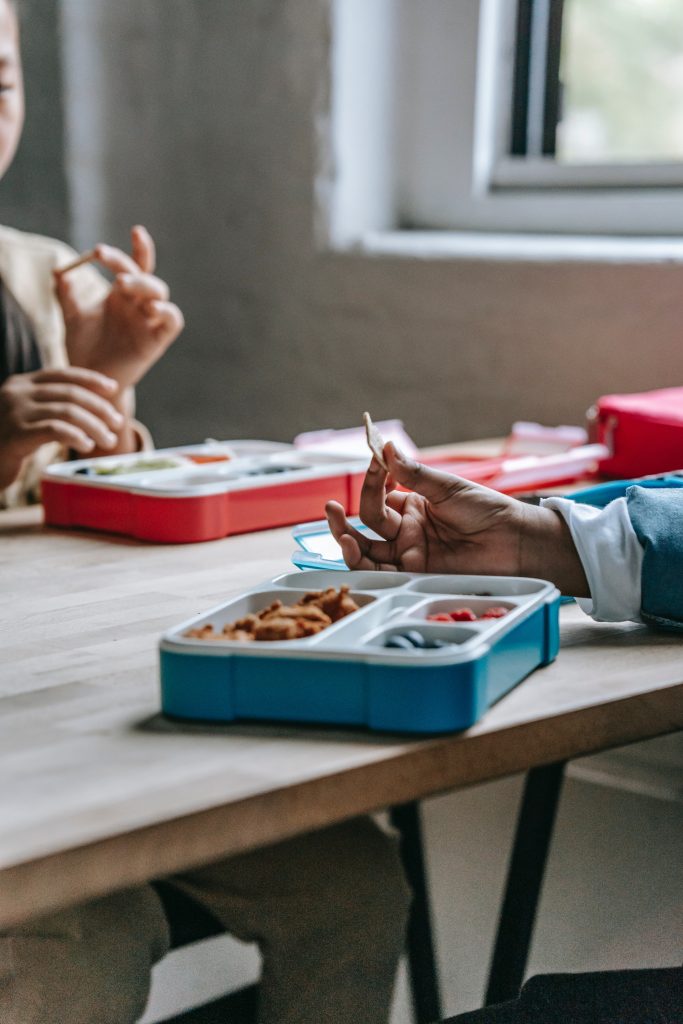 Keep your little ones engaged and happy with these inexpensive snack ideas for kids. These activities require measurement, fractions, and problem solving skills.  Kids of all ages enjoy cooking and snack-making. I always start by having everyone wash their hands with soap and tie back long hair. To add more skill practice, involve your children in making a grocery list of needed ingredients and estimate the cost of them. All of the following snacks should be made with the help of a parent.
Inexpensive Snack Ideas For Kids
Ants on a Log: Wash a bunch of celery and cut each stalk into thirds. Fill each "log" with peanut butter or cream cheese. Then, add the "ants" by placing raisins on the filled log. If your children don't like raisins, you could substitute mini chocolate chips.
City S'Mores: This snack is a fun modification of the famous campfire snack. You will need graham crackers, a can of chocolate frosting, and marshmallow cream. Break each cracker into halves and set on a plate. Spread one half with chocolate frosting and the other with marshmallow cream. Press the halves together and repeat the process until you have made enough S'mores for your family.
Banana Buttons: You will need 1-3 bananas, peanut butter or cream cheese, almonds or other nuts, raisins, coconut, chocolate chips, or other "toppers" of your choice. Slice each banana into "buttons" and spread some peanut butter or cream cheese on top of each. Then, decorate your buttons with toppers that they like.
Cookie Cutter Sandwiches: This is a fun lunch for kids to make. You will need large cookie cutters in a variety of fun shapes, bread, lunch meat, cheese, and condiments of your choice. First, cut the bread into shapes using the cutters- remember to cut two of every shape! Then, spread the bread with mayo, Miracle Whip, mustard, etc and add the meats and cheese. You can top the cute sandwiches with a black olive or some other decoration using toothpicks.
Kid Mix: Get out your measuring cups and spoons for this fun treat. You will need small ziplock bags, cereal, nuts, M&Ms, raisins or craisins, goldfish crackers, and any other "trail mix" ingredients you like. You will also need a large bowl and spoon for mixing. The children have a lot of fun measuring the right amount of each ingredients to create the perfect snack mix. Then, they fill the bags with snack mix for tonight's family movie or just for snacking. It's a good idea to mark each bag with the family member's name, especially if you customize the mix for some.
Cheesy Tortilla Roll-Ups: This is another fun lunch that kids can make. You will need flour tortillas, string cheese, and salsa if desired. Unwrap a string cheese and roll it up inside a tortilla. Place it on a microwave safe plate and heat it for about 30-45 seconds or until the cheese melts. It's a simple and nutritious lunch. You could make some guacamole to make it even more delicious. Peel 1-3 avocados and smash with a fork in a medium sized bowl. Add about a tablespoon of sour cream or mayo, a dash of garlic salt, a tablespoon of salsa, and salt and pepper to taste.
Homemade Popsicles: If you have popsicle forms and sticks that great. If not, use ice trays or small bathroom paper cups and popsicle sticks. If you don't have popsicle sticks, use round toothpicks. Fill the forms, cups, or ice trays with juice or Kool-Aid, place the stick or toothpick and set them in the freezer while you swim or play for a few hours. Then enjoy a cool summer treat that you made!
Build Your Own Sundae: You will need vanilla ice cream, sprinkles, chocolate, caramel, and or strawberry syrup, crushed nuts, cherries, and whipped cream. Of course, you can also use fresh strawberries, gummy bears, and any other sundae ingredients you like. Each person begins by scooping vanilla ice cream into their bowl. Then they build their own sundae with all the toppings they like. A great follow-up activity is to write a "how to" essay on creating the perfect ice cream sundae.
Smoothies: You will need a blender, milk, almond milk, or yogurt, and fresh or frozen fruit and/or veggies. A basic recipe calls for 1 cup milk (or yogurt of almond milk), ½ tsp. vanilla, 1 cup crushed ice, and 1 cup fruit or veggies. You can play with these ingredients to match your tastes. You can also add protein powder if you like. Start by adding the milk and vanilla to the blender. Then add bananas, pineapple, mango, strawberries, peaches, spinach, carrots, or any fruits and vegetables you like. Add the crushed ice at the end. Then, add more milk if it's too thick and ice or fruit if it's too thin. You could vary the recipe by adding a scoop of vanilla ice cream.
Fruit Pizza: This is an amazing dessert to make for the whole family. You will need a roll of refrigerated sugar cookie dough, cream cheese, confectioner sugar, vanilla, and fruit slices such as strawberries, kiwi, blueberries, mango, and peaches. For the 4th of July just use strawberries and blueberries for an All-American treat. Begin by lightly greasing a round pizza pan. Then, divide the cookie dough into small chunks and place all around the pan. Everyone helps spread the dough on the pan. Bake the "pizza" for about 16-20 minutes or until golden brown. Set out to cool while you slice the fruit and mix the icing. Next, mix 8 ounces of cream cheese with a cup of powdered sugar and a tsp of vanilla. Spread on top of the cooled pizza and arrange thinly sliced fruit on top of the icing. Refrigerate until ready to serve.
These Inexpensive Snack Ideas For Kids should be a big hit!  I have always included my children and grandchildren in cooking. It involves so many real-life math and problem solving skills and it's a wonderful way to spend some quality time together. Always remember to include the kids in the clean up as well. Learn how to save money and retire early and spend more time with your family.